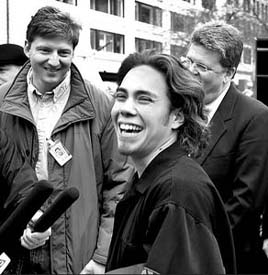 Anton Ohno">

Photo used under Creative Commons from Seattle Municipal Archives
Apolo Anton Ohno has won five Olympic medals and has joined only three other Americans who have won 3 medals in a single Winter Olympics game. He has been the reigning United States champion since 2001 and has won the Men's national title 10 times.

He was the youngest skater to win a World cup in 1999. And won a World Cup overall title in 2001. Apolo Anton Ohno won the overall World Championship title in 2008.

Apolo Anton Ohno age 27, is an American short track speed skater, winning 5 medals. Two gold, one silver and two bronze. He also won the reality TV show 2007 competition, Dancing with the Stars.

Apolo Anton Ohno ties with Eric Heilden for the most medals won in the Winter Olympics by an American man He was named the US speed skating Athlete of the Year for 2003 and was a finalist in 2002, 2003, and 2006 Sullivan Award.