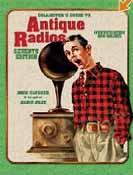 Collector's Guide to Antique Radios: Identification and Values
and many other parts and was a huge project to build.

Console radios were also expensive and cost up to $700.00 in the 1930's. These were made to be centerpieces for living rooms, hallways and made a nice addition to the home.
The console radio was the centerpiece of many homes back in the era of radio, they were mostly for the wealthy. Philco, RCA, Westinghouse, zenith and other companies built the console radio.

Tabletop wood radios could be cathedral style, which are an upright box with a rounded top, or in a Tombstone form, which are like a tall and narrow box, or any type of boxy radio that can sit on a tabletop. These were usually used in the kitchen, living room or even the porch.

Black/brown Bakelite plastic radios were the first ones that were mass-produced. These were more affordable and came in different styles. The plastic used was brittle so dropping this radio could break it. Catalin was a color version of Bakelite radio and is most sought after by collectors.