More Cool Stuff
Page 1
Page 2
Page 3
Page 4
Page 5
Page 6
Page 7
Page 8
Page 9
Page 10
Help Others
---
When and How Will the World End mastermind Sudoku Puzzles Games Rubik's Cube mastermind How to Beat Depression
Mastermind Games
Mastermind Games for sale. Original and Advanced or Super Master
Mind Games from the 70s, Mastermind 44 and much more.
VERY UNIQUE Vintage 1975 Super Master Mind game with 12 colors!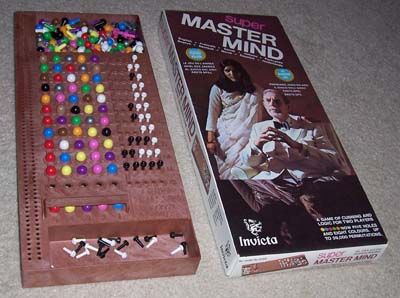 VERY UNIQUE Vintage 1975 Super Master Mind game with 12
colors for those looking for a REAL challenge! This twelve-color
special edition is available exclusively from this web site.
See ordering information below.
Mastermind, Master Mind or Super Master Mind is a game of deduction and logic for two players where the object is to break the hidden code. The code maker discretely places a pattern of colored pegs in random order behind the code shield and the code breaker attempts to break the hidden code one line at a time.

After each guess, the code maker will place a white score peg to indicate right color, wrong location and/or a black score peg to indicate right color, right location for each code peg in that line. No score peg will be given for wrong color code pegs.

The Original Mastermind game has a 4-hole code chosen from 6 colors while the more difficult Advanced or Super Master Mind has a 5-hole code chosen from 8 colors.

Ordering Information for Unique Vintage 12-Color Super Master Mind Games:
$29.00 + $10.50 S/H each. (International shipping rates higher) Payable in USD via PayPal or Postal Money Order. Combined shipping rates available on multiple orders. Email us at: susanSdesign@yahoo.com for questions or to check on availability. A PayPal invoice for the order total will be sent upon request. Item will be sent
by USPS within 2-3 days after receipt of payment.
---
Find More Mastermind Games:
Mastermind Games
Advanced Mastermind
---
Check these Out
---
On a Side Note:

Baby Shower Games

Most of us have good memories of the games we played at a baby showers including our own and for friends. The diaper cake or the gooey chocolate that is added to a diaper to make it look dirty is a lot of fun much to the disgust and delight of the guests. The new young mother and sometimes the father will be teased on the upcoming dirty diapers and the work involved in having a baby. (Mastermind ) But this is all in fun and most enjoy these parties. (master mind games)

I have a friend who told me she didn't want to go to these parties anymore because the games made her uncomfortable so when planning a party make sure your guests can opt out of them if they want and plan fun games not humiliating ones. (master mind game)

Many times couples are invited and the games can be for both men and women. The male dignity may be a little dented during the bottle feeding game where the goal is to see who drinks their bottle of milk the fastest. Usually one person is holding the bottle while the other drinks. Married Couples can play this game very well with one person on the others lap, but if they are not a couple it can be a little embarrassing to some. (super mastermind)

Another fun game is the pacifier game where the guest is blindfolded and they have to find the mouth of the person sitting beside them using only the pacifier and can't feel with their fingers first. Another friend went to a baby shower in a local church and she made sure she had a urgent need to go to the bathroom when certain games came up that were embarrassing so be careful what you put your guests through and again let them opt out if wanted. (play mastermind)

On this page you will find may baby shower games that are free or for just a small expense. These ideals and products will help you put together a wonderful and memorable shower and will help the new parents feel loved and cared for. (how to play mastermind)

When choosing prizes make sure they have a baby theme. If you can't find something that you like try some of the links on this pages. These will lead you to other ideals until you find the prize that will be just perfect for your guests and the parents.

To make it easy on the guests you could suggest they bring something for a gift basket. All can contribute to the basket and don't have to wrap or address the items. In fact you could have a list of needed items for the basket and invite your guests to pick something from the list to bring. This way the new parents won't have a bunch of duplicate gifts that they may not be able to use. However you can never get enough disposal diapers so those will always be needed.

---

Dear Mastermind Fans,

I am writing to you in behalf of your Heavenly Father. He is seeking you like a lost sheep. You remember the Bible story? It is about a shepherd who has 100 sheep. But when he brings the sheep home one night, one is missing. He then leaves the 99 sheep and goes out into the wilderness until he finds that lost sheep.

In this parable the shepherd goes out to search for the one lost sheep-the very least that can be numbered. So if there had been but one lost soul, Christ would have died for that one. To read more click Lost Sheep
---
Susan Dietel
Web Programmer
Email: susansdesign@yahoo.com
Web Site
---
© 2010 Mastermind Games Website, All Rights Reserved. This is not the official Mastermind Games Website, nor is it affiliated or endorsed by Invicta Plastics, Pressman Toys or Hasbro. Mastermind or Master Mind Games are trademarks of Invicta Plastics, Pressman Toys or Hasbro.
---