Renovate this Home for Youth
A.W. Hallock started Hylandale academy in 1916 as a Christian school with an educational program dedicated to student's mental, physical and spiritual growth. Hylandale is located in western Wisconsin on 400 acres in the beautiful hills five miles south of Rockland (25 miles east of LaCrosse) on County Road "J".

While the religious affiliation of Hylandale academy is the Seventh Day Adventist Church, Hylandale is owned and operated by the Hylandale association, a non-profit charitable organization.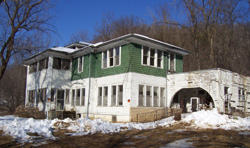 In 1986 Hylandale closed its doors as a boarding academy and the Christian grade school and the weekly church services have continued throughout the years and have been a blessing to many families in the surrounding area. Many are familiar with "Allied Steel" ran by Doug Flahaut which is also located on the Hylandale campus and has serviced the community for the last 20 years.

Although Hylandale has been active in many areas, we are recently seeing the Lord working in many exciting ways. The Lord has impressed many different individuals to come to the area to be part of vision of reviving Hylandale. Each day we are seeing the evidence of Gods leading in miracles both big and small. In September the Hylandale church participated in a month of prayer. We are excited as we see God answering our prayers. We have been cleaning up our valley and little by little it is once again becoming a place of beauty.
Another answered prayer is one of Hylandales' old buildings called the "Health Home" which was once used to house the elderly and has been empty for the last 10 years. The building is solid and with some renovation will once more be a blessing to the community. Clean up and restoration began January 2004. Our goal for the building is to train youth in health principles, evangelism and love for others the way Christ showed love. There is a great need to train our youth to be productive citizens in their community.

The Hylandale Youth Haven will be a retreat type building that will provide a beautiful place for people of all ages to stay where they can enjoy hiking, nature, non competitive sports, music, healthful meals and evangelistic training.

The estimated cost for materials for Hylandale Youth Haven is approximately $100,000 dollars and we are praying that the Lord will bring volunteers to come and donate their time to help save on labor expenses. We are currently in need of funds for the foundation, the roof, windows, wiring, plumbing and an addition that will be added to the south side of the building. The home has 9 bedrooms and 5 bathrooms besides a large living, dinning, and kitchen area.

We are excited as we see Gods leading here in the Hylandale valley and we pray that we can be a shining light to our community and to the whole world, "Isaiah chapter 60."

How can you help? With your prayers, volunteer hours and your financial support. Currently our goal is to have Hylandale Youth Haven finished by summer 2006.

If you would like any information on the renovation process, on volunteering or donating your tax deductible donation (please make your check out to: Hylandale Health Home) Contact:
---
| | | |
| --- | --- | --- |
| | | Hylandale Memories Book |
Example Pages
---
Susan Dietel
Web Programmer
Email: susansdesign@yahoo.com
Web Site
---
jane hallock, health home, home, hylandale, renovate, help, other, others, charity, donate, donation, youth, haven, allied steel, doug flahaut, SDA, seventh day adventist church, eternity books, tax deductible, susan dietel, volunteers, volunteer, hiking, nature, sports, music, evangelistic, training, money
---
URL: http://susansdesign.com/book.htm