More Cool Stuff
Page 1
Page 2
Page 3
Page 4
Page 5
Page 6
Page 7
Page 8
Page 9
Page 10
Help Others
---
When and How Will the World End sterling Home Machinists sterling Metal Casting Supplies for the Small Foundry engine How to Beat Depression
Stirling Engines
Stirling and Hot Air Engines. How to build and design Stirling Engines.
Model Stirling Engine Material Kits. Mechanical Models.
Stirling Engine Design Manual.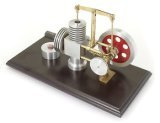 Model Stirling Walking Beam Engine Fully Assembled
---
Stirling Engines and Plans
---
---
Check these Out
---
Dear Stirling Engines Fans,
I am writing to you in behalf of your Heavenly Father. He is seeking you like a lost sheep. You remember the Bible story? It is about a shepherd who has 100 sheep. But when he brings the sheep home one night, one is missing. He then leaves the 99 sheep and goes out into the wilderness until he finds that lost sheep.

In this parable the shepherd goes out to search for the one lost sheep-the very least that can be numbered. So if there had been but one lost soul, Christ would have died for that one. To read more click Lost Sheep
---
Susan Dietel
Web Programmer
Email: susansdesign@yahoo.com
Web Site
---
Powered by WebRing.